Global Business
Sato is engaged in international activities
to expand the SATO brand around the world.
Focusing on the fast-growing Asian region, North America, and Europe, Sato continues to develop its international business through its six branches in Taiwan, Hong Kong, Singapore, China, the US and Germany. We conduct marketing and sales activities carefully tailored to each business location, responding to regional and local needs.
Using the six branches to educate and
disseminate the SATO brand
With our subsidies in the US, Hong Kong, Singapore, Taiwan and offices in China and Germany, we carry out fine-tuned marketing and sales activities closely tied to each region. We will continue to make use of our know-how and networking to cultivate and further popularize SATO brands in a way that responds to the various lifestyles and needs of different countries and regions.
Asia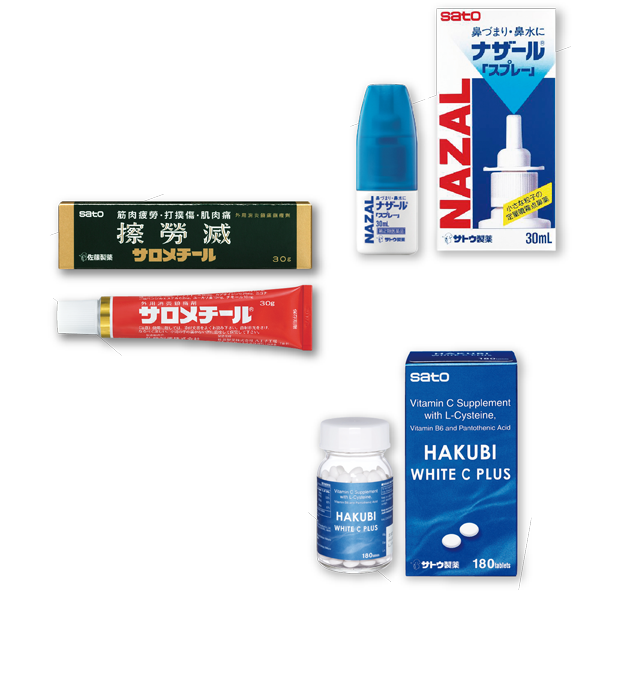 The main brands YUNKER, HAKUBI, NAZAL, and POLIBABY have grown significantly in Asia.
 Sales of HAKUBI began in Singapore in 2007, with an increasing lineup today. Sales have expanded from pharmacies and drugstores to cosmetics stores and department stores. In the future, we plan to release the topical treatment for onychomycosis, the ethical drug LUCONAC, from our Singapore branch into Southeast Asian markets.
 In Hong Kong, in addition to HAKUBI, sales of NAZAL continue to grow, reaching a number-one share in the market through TV commercials and successful local promotions. The HAKUBI brand is seeing strong sales in Thailand, Malaysia, and Indonesia; sales in Vietnam began in 2019, with the Philippines and Cambodia scheduled for 2020. The HAKUBI brand is expected to grow further in the rapidly-growing economies of the ASEAN market.
 Sato is developing a huge market in China. In addition to expanding our online store for the EXCELLULA cosmetics lineup and HAKUBI Drink, in April 2019 we concluded a sales alliance with the Baheal Pharmaceutical Group for the sales of EXCELLULA. Sales of CALCALCIN Plus and POLIBABY are also scheduled to begin in 2020.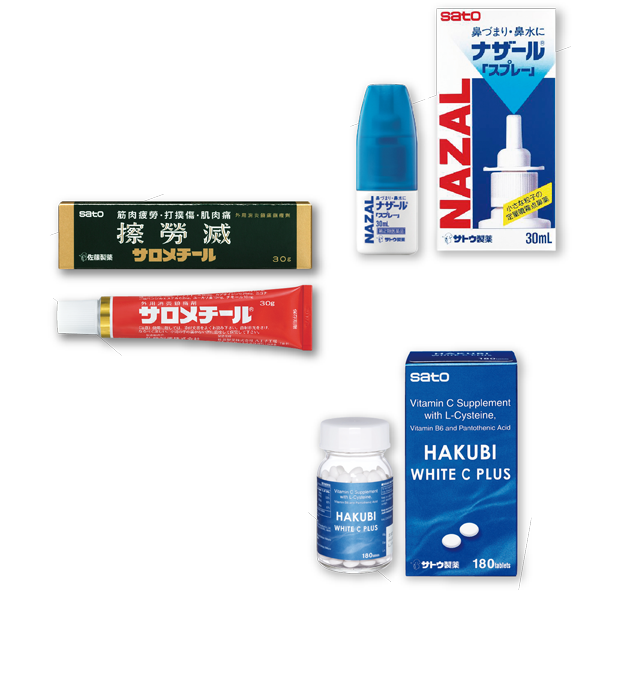 North America and Europe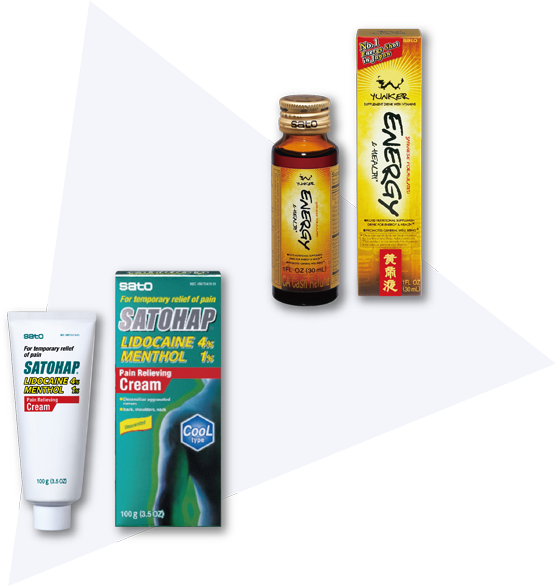 In the US, ZENTRIP, a motion-sickness treatment using a convenient, highly portable film, first went on sale in 2009. We are now expanding sales channels by supplying products in new formulations to major drugstore chains as store-branded items.
 Sato is expanding the YUNKER brand in the US, including Hawaii. In 2019, we released the topical analgesic with lidocaine SATOHAP, and are actively promoting the SATO brand.
 In Germany, YUNKER is our main brand, as we further expand our product lineup and firmly establish the brands. Sato is also active in introducing global brands such as BAYER ASPIRIN, an antipyretic analgesic.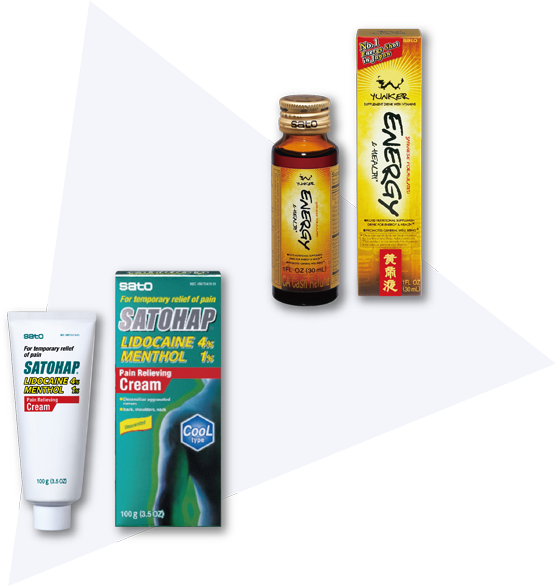 International base and
international business partners
●

International base

●

Technology/product introduction

●

Technology/product export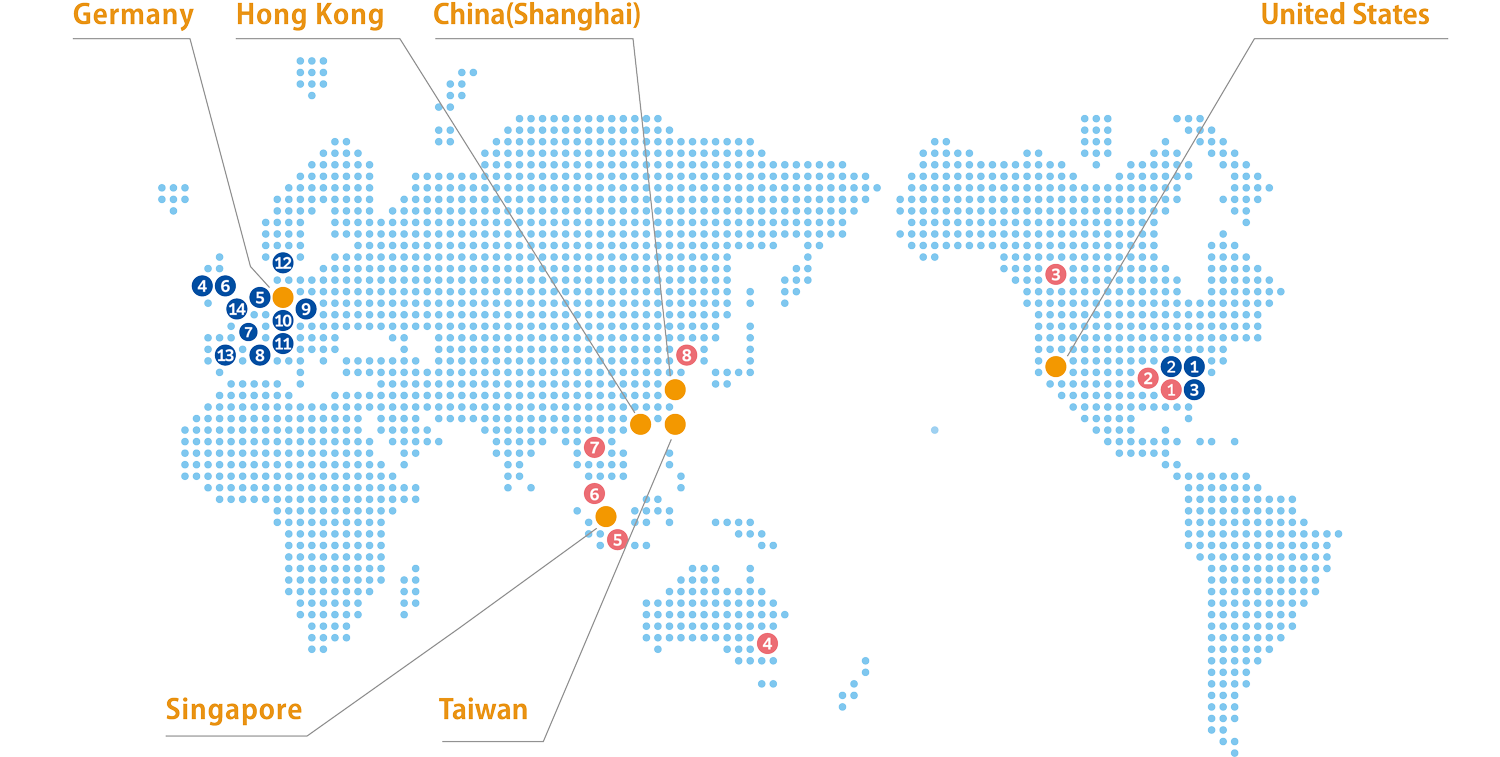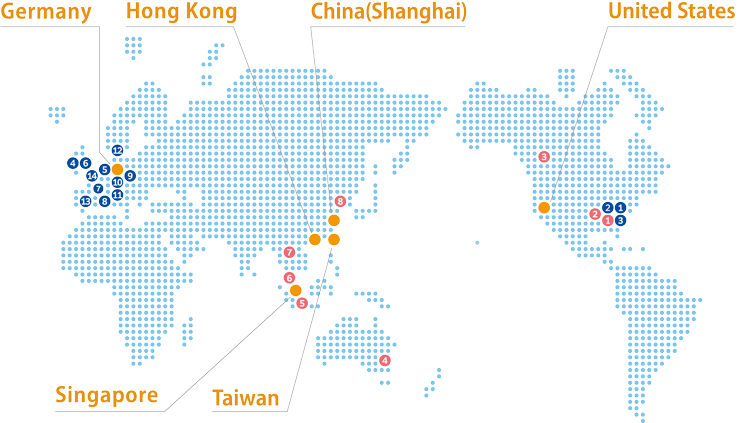 ❶

Pfizer Inc. (US)

❷

MSD (US)

❸

Novan Inc. (US)

❹

GlaxoSmithKline (UK)

❺

Astellas Pharma Europe B.V. (Netherlands)

❻

AstraZeneca AB (UK)

❼

Sanofi (France)

❽

IPSEN (France)

❾

Rottapharm | Madaus (Germany)

❿

Bayer AG (Germany)

⓫

Max Zeller Söhne AG (Switzerland)

⓬

SmartPractice Denmark ApS (Denmark)

⓭

Lacer, S.A. (Spain)

⓮

UCB S.A. (Belgium)
❶

CVS Pharmacy (US)

❷

Walgreens (US)

❸

London Drugs (Canada)

❹

Church & Dwight (Australia) Pty Ltd. (Australia)

❺

Metro Drug Indonesia (Indonesia)

❻

DKSH (Malaysia)

❼

Eisai (Thailand) Marketing Co., Ltd. (Thailand)

❽

Baheal Pharmaceutical Group (China)
Back to Business Areas