Healthcare Business
To meet consumer needs, Sato provides a wide range of products.
Sato provides some 300 products including Switch OTC drugs, Class 1, 2, and 3 OTC drugs, quasi drugs, health-food products, and cosmetics, all supporting consumers' daily health. Sato's philosophy: innovative Healthcare Innovation concept is incorporated in every product.
The leading brands:
YUNKER, ACESS, STONA, and RINGL IB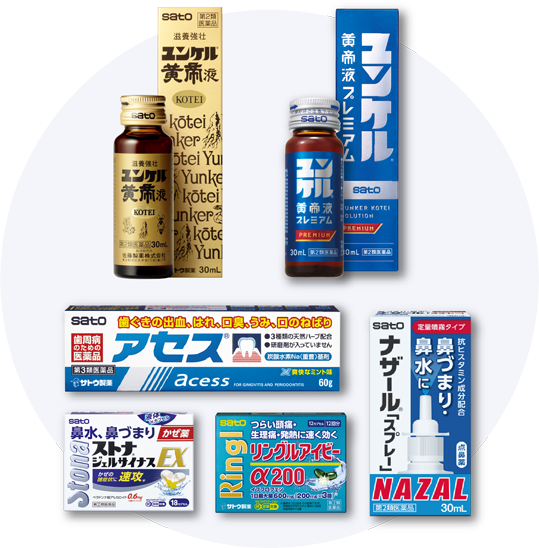 Healthcare Business, Sato's main business area, covers a wide range of some 300 products including OTC drugs, quasi-drugs, foods with function claims, foods for specified health uses, and cosmetics.
 Consumer needs are accurately captured during product development, with decades of experience and the newest technologies applied to designing new products reflecting many viewpoints. Sato's major OTC pharmaceutical products include the herbal-based health drink YUNKER series; the market-leading ACESS series of medicated antigingivitis and anti-periodontitis products; the popular, cold-symptom-specific STONA series; the RINGL IB series, the antipyretic analgesics especially popular with women; and the rhinitis drugs NAZAL and STONARHINI series.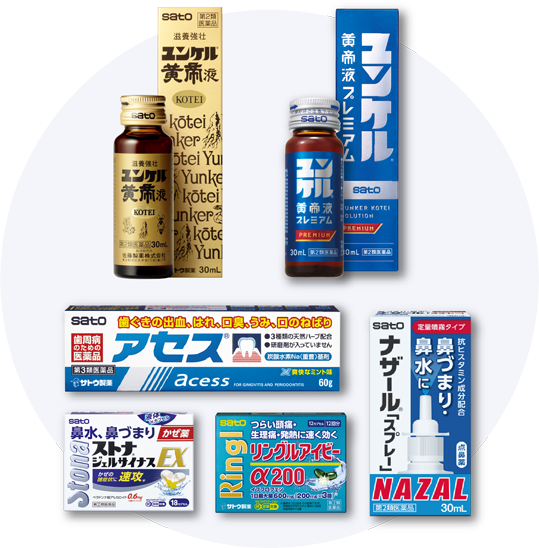 STONA symptom-specific cold medicine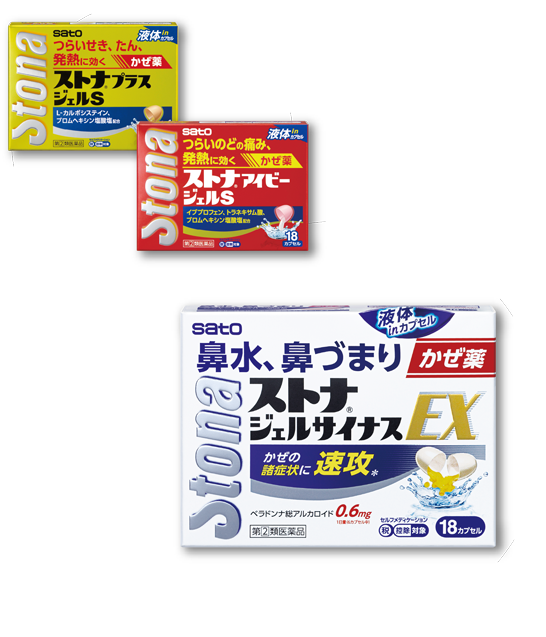 In August 2019, STONA Gel Sinus EX, the newest member of the STONA series of symptom-specific cold medicines tailored to nasal cold symptoms was released. The STONA series, including STONA IB Gel S and STONA Plus Gel S, makes use of our instantaneous liquid-in-capsule technology. This allows the active ingredient to be absorbed rapidly for fast relief of painful cold symptoms. We will continue to provide cold medicines that are effective for each individual's specific cold symptoms.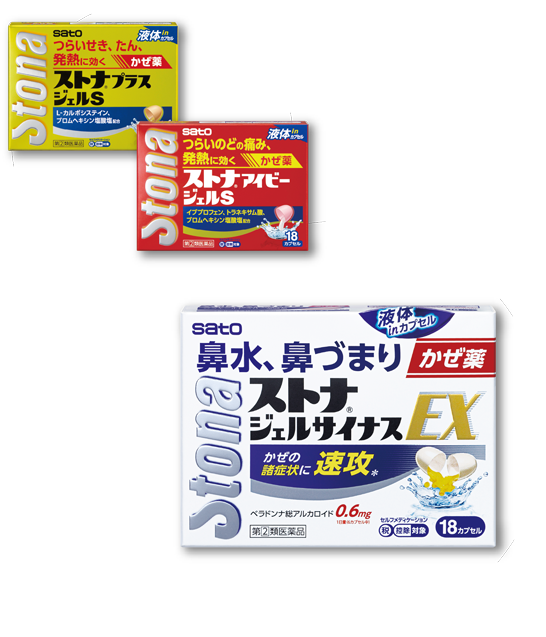 The debut of Blue YUNKER,
supporting an active life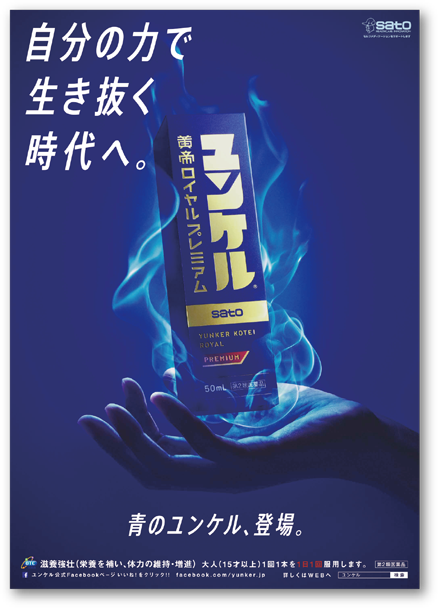 In September 2019, the long-selling YUNKER family of nutrient/tonics was expanded with the launch of the Blue YUNKER lineup, including YUNKER Kotei Royal Premium and YUNKER Kotei Solution Premium. The color used is a royal blue, differentiating it from the existing YUNKER products. Blue YUNKER is an herbal medicine that supports an active lifestyle. YUNKER Kotei Solution Premium focuses on people who want to live a more active life, with 11 different carefully selected herbs. The new YUNKER Kotei Royal Premium contains 14 selected herbal materials also effective in increasing activeness.
 The "basic" lineup of YUNKER products is tailored to assist consumers in fighting fatigue; by adding the Blue YUNKER products to the series, we can better support people who want to live a more active life.
 In 2019, Sato became the first pharmaceutical company to become an official partner in Heatstroke Zero, a project of the Japan Weather Association. This involves providing correct information, while helping people to be more resistant to heatstroke.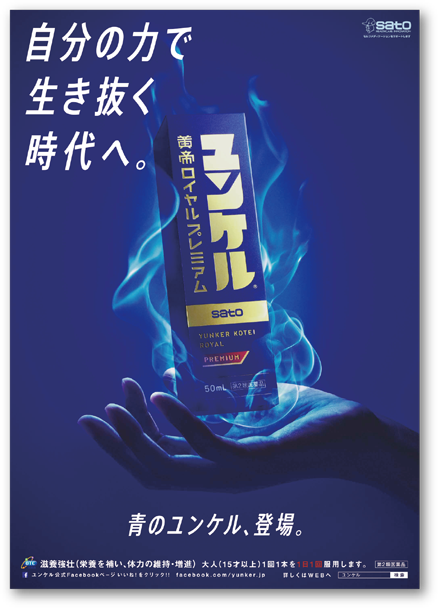 The "basic" lineup
Supporting for people
fighting fatigue

Nutritional
supplements for
physical fatigue, or
during and after
illness.

The "premium" lineup
Supporting an active life

Nutrient/tonics

Launch of ALOGAIN series of
hair-growth agents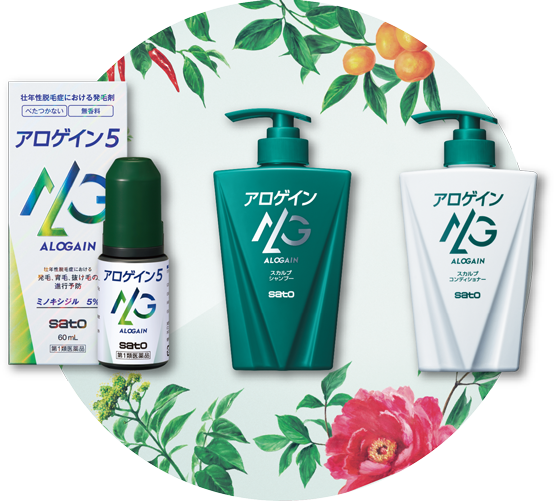 In January 2020, we began sales of our first hair-growth products, the ALOGAIN series. ALOGAIN 5 contains a 5% minoxidil formulation, the highest concentration in Japan of this active ingredient. Usability is important for us, so it contains no ingredients that can cause stickiness, allowing ongoing use. At the same time, we also launched ALOGAIN Scalp Shampoo and ALOGAIN Scalp Conditioner designed specifically for people using hair-growth products. This is part of our desire to promote total care for the hair-growth environment of the scalp.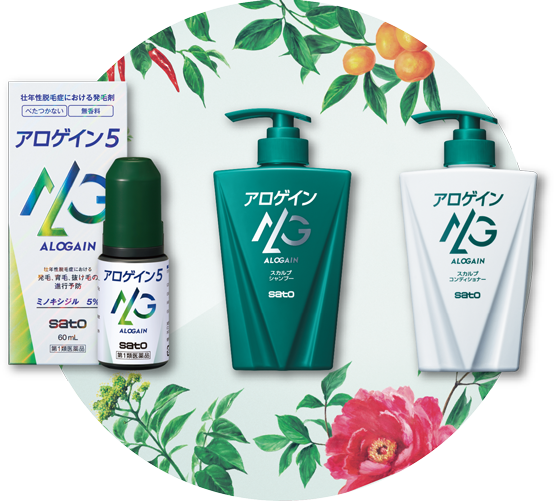 Value-added OTC drugs,
matching market needs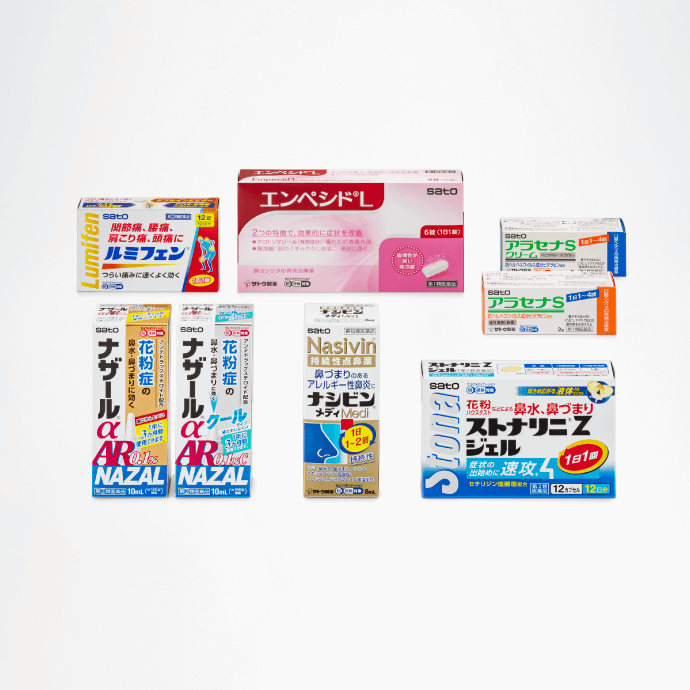 We are actively developing Switch OTC drugs, which can take the place of ethical pharmaceuticals in pharmacies and drugstores. A result of this, an ante-drug steroid was added to the nasal drop NAZAL α AR 0.1% for rhinitis from seasonal allergies, and was launched in December 2016; STONARHINI Z Gel, an oral remedy for rhinitis, was launched in December 2017; and EMPECID L Cream, a drug for the treatment of recurrent vaginal candidiasis, was released in July 2018.
 Switch OTC drug packaging displays a mark indicating that the product is eligible for a special tax reduction for OTC drugs which came into effect in January 2017. As part of a major series of product launches in 2019, the topical anti-phlogistics analgesic SALOMETHYL Diclo Gel was released in March, while in April, Sato launched a special eyedrop for dry eye, NOARL CL.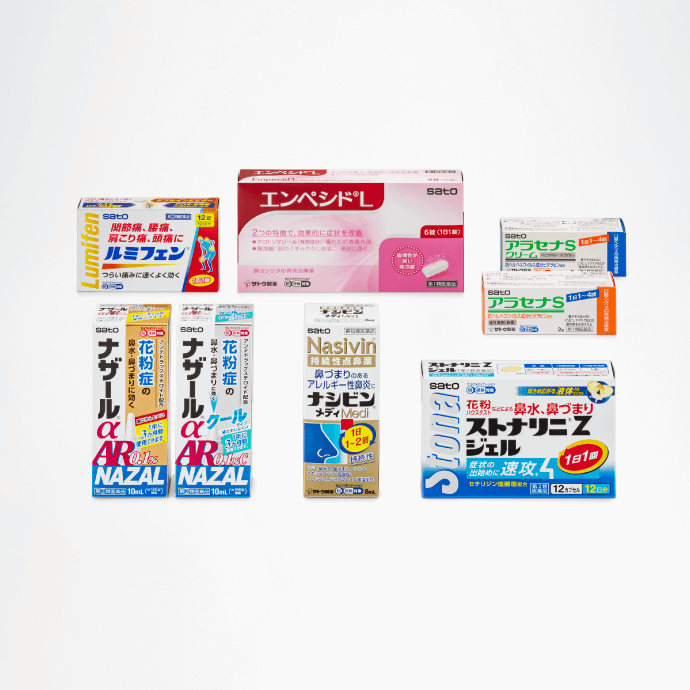 Building a trusted brand that
consumers value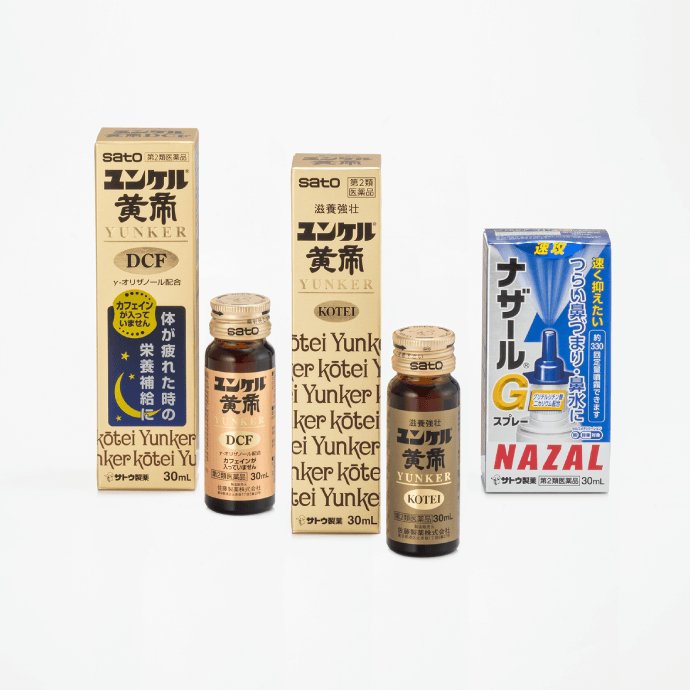 At Sato Pharmaceutical, we select products which have the possibility for future growth and repeat purchase for inclusion in a group called Challenge 5. These new-growth products include the stomatitis treatments AFTACH A, AFTERGUARD and SATO MOUTH OINTMENT; the ARASENA S series of treatments for recurring cold sores; the antipyretic analgesic LUMIFEN; the antitussive expectorant STONA Expectorants Capsules; and YUNKER Kotei Granules/DCF and YUNKER Sonne Royal.
 In order to support healthy daily life, we are focusing on the development of health food. These new products include SATO OOLONG TEA, launched in February 2019; SALOMEGLUCO, which went on sale in October 2018; and SATO GINKO, launched in December 2019. We will continue to focus on developing unique healthcare products, while continuing to develop our long-selling favorites.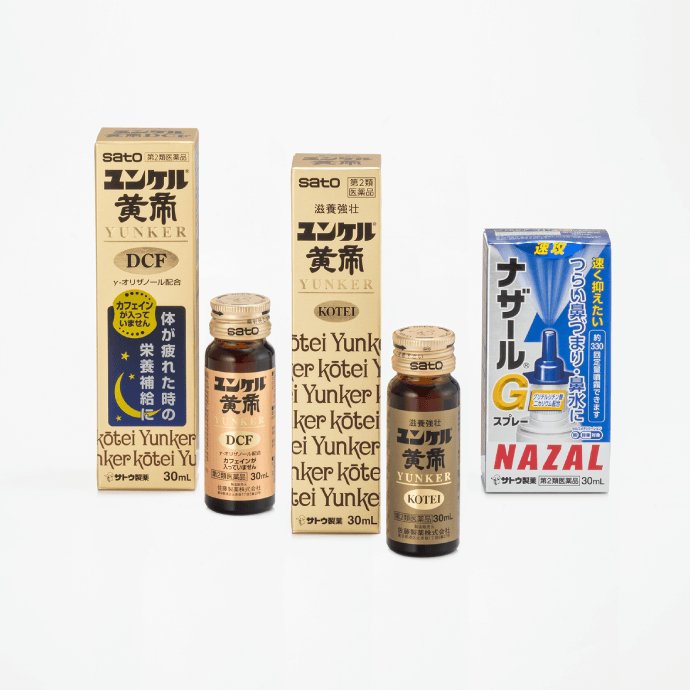 Expansion of the YUNKER Royal
Series for convenience stores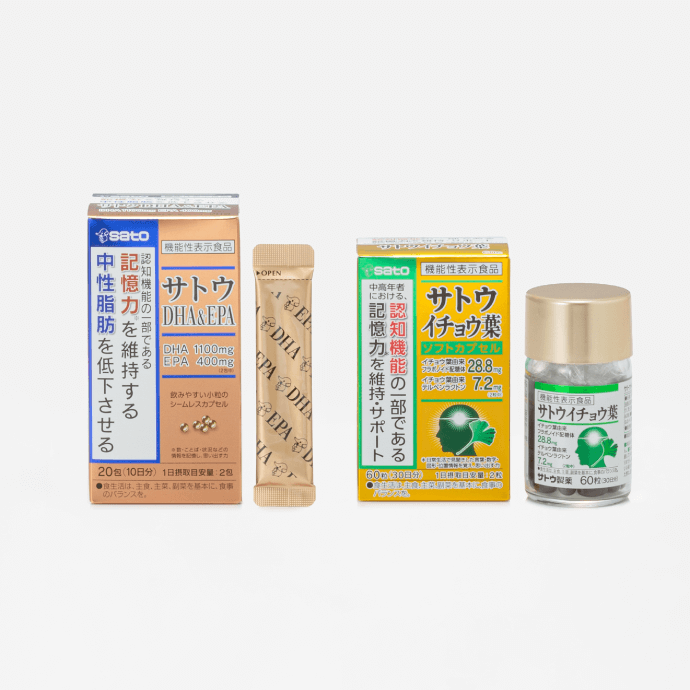 The YUNKER series is a top brand family, highly regarded ever since its release. We have also focused our efforts on the YUNKER Royal series for convenience stores, a place popular with younger consumers. With the revision of approval criteria, we are quickly expanding indications, widening our lineup of quasi-drugs with products such as YUNKER Royal 200, YUNKER Royal C2, and YUNKER Royal Tablets, and promoting the creation of new segments. Because of the revision of approval standards, the product effects can be more clearly expressed; responding to this, we have changed the language used on packaging to make it easier for consumers to select the YUNKER Royal that is right for them. Sato will continue to make efforts such as introducing the YUNKER Royal series to supermarkets, considering the increasing diversification of lifestyles as we look to expand our user base.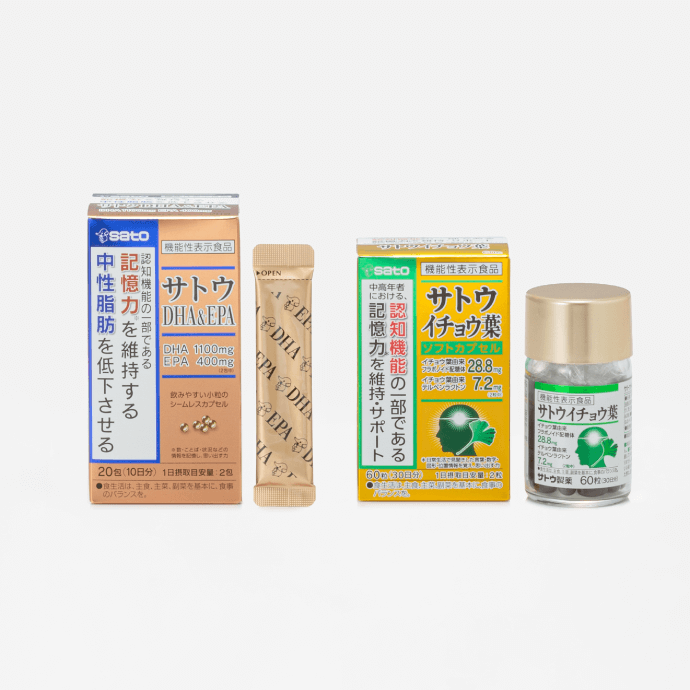 Applying pharmaceutical technology to enhance
anti-aging skincare cosmetics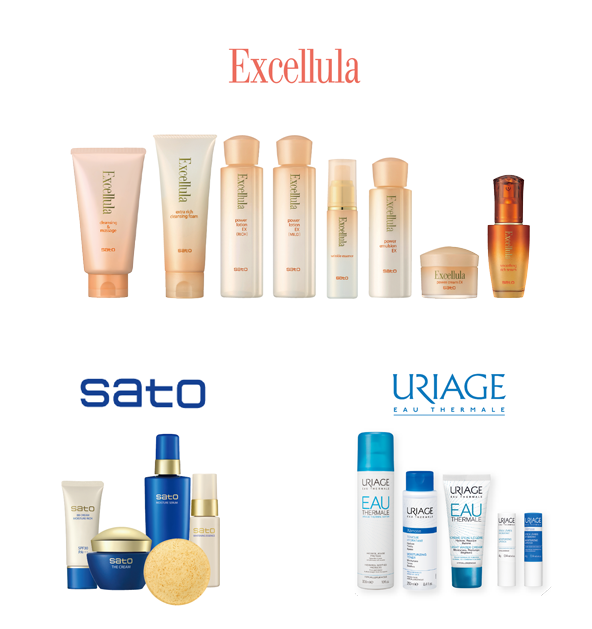 Our strength in dermatology is shown in EXCELLULA, which combines original ingredients with our drug development expertise. Since its launch in 2009, EXCELLULA has been widely praised as a highly efficacious anti-aging skincare cosmetic. For the brand's 10th anniversary in 2019, we applied our ointment technology strength for the creation of the cream-like EXCELLULA Cleansing and Massage makeup remover, and the high-performance EXCELLULA Smoothing Rich Serum. We will continue to apply our strengths as a pharmaceutical company to respond to women's skin problems with highly concentrated, highly penetrating cosmetics.
 Building on our introduction of the URIAGE brand from southern France, in September 2018 we launched the URIAGE Eau series of total skin care products. This series lets us further improve the brand power, by providing a lineup that covers the entire body, from face to fingertips. We have earned a high reputation by differentiating our products from basic cosmetics: the SATO brand, supporting aging care from within through the application of advanced dermatological medical technology.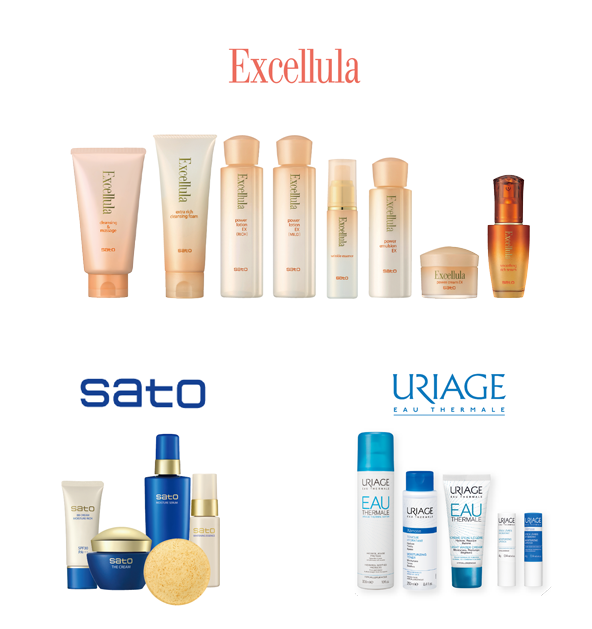 Back to Business Areas