Message from the President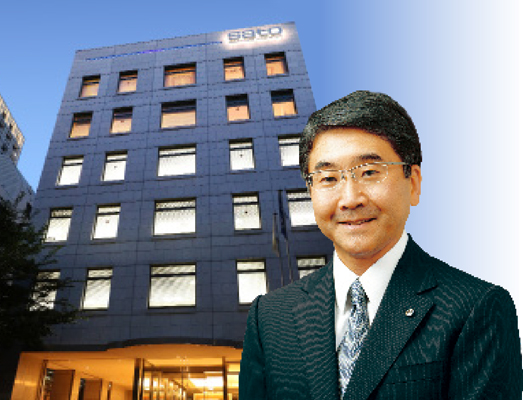 Sato, Evolving Healthcare Innovation to
Achieve Sustainable Growth
Today, the world is moving toward not only economic development, but the goal of a sustainable society, a goal seen in the Sustainable Development Goals (SDGs) raised by the UN and other efforts. The question now is how to maintain and develop society in a sustainable manner while improving the quality of life.

In addition, Japan's population is in decline due to a falling birthrate and aging population that are advancing at a faster rate than anywhere else in the world; the social security system is thus being reexamined in order to maintain the sustainability of the lives of the country's citizens.

In order to promote self-care, which means taking responsibility for one's own health and treating minor physical ailments on one's own, the government is ramping up initiatives that include the establishment of the Self-Care and Self-Medication Promotion Office of the Ministry of Health, Labour and Welfare in 2021, and the expansion and extension of the scope of the Self-Medication tax system in 2022. The role of OTC drugs will thus become even more important going forward.

In order to meet these social needs, our mainstay healthcare business is focusing on developing high- added-value products such as Switch OTC drugs. For our flagship brands, we appoint prominent brand ambassadors, conducting a variety of promotions using mass media and digital media. In the ethical pharmaceutical business, we offer highly original products centered primarily around the field of dermatology, while in new drug development and drug discovery we proactively advancing not only in-house development, but collaboration with companies, universities and research institutions both in and outside Japan.

In our global business, our six branches in Asia, North America and Europe offer products and conduct marketing tailored to the needs of each region. Going forward, we plan to expand our ethical pharmaceuticals globally, including the expansion of our topical onychomycosis treatment, LUCONAC, into Southeast Asia, using Singapore as a base.

In our CSR pursuits, through the activities of the OTC Self-Medication Promotion Foundation and the Sato Scholarship Foundation we continue our efforts to create an environment for self-care and self- medication, to develop human resources who can contribute to society, and to protect the environment at our production sites. Further, we are actively promoting initiatives to contribute to achieving the goals of the SDGs in order to realize a sustainable society.

The Company celebrated its 100th anniversary in 2015, and under our corporate philosophy of promoting healthcare innovation, we will continue to contribute to consumer health through our health-related businesses centered around OTC drugs and ethical pharmaceuticals.

Thank you very much; we hope to continue to draw on your invaluable advice and support.
Seiichi Sato
President and CEO
Working to Achieve Sustainable Growth
Establishing a Growth Platform for Mainstay Businesses
Healthcare Business

Sato supports people's
health by providing high-
quality, high-value-added
OTC drugs.

Ethical Pharmaceutical Business

Sato aims to enhance patient
quality of life with highly original
products, mainly in our core area of
dermatology.

Global Business

Sato works to develop the
SATO brand, focusing on the
ASEAN region but also in
North America and Europe.
New Initiatives in Support of Growth
SDGs

Sato will contribute to international
goals for sustainable development.

DX

Digital Transformation (DX)
Sato is working to improving quality
and service by promoting an effective
shift to digital.