Corporate Philosophy
Promoting Healthcare Innovation
Healthcare Innovation: our corporate philosophy in which health is the number-one priority; one in which Sato Pharmaceutical provides the products that answer the demand for a more positive, more enjoyable daily life.
Keeping this in mind, we strive to realize selfcare by providing effective, safe, high-quality products.
Healthcare Business
Creating a positive environment around self-care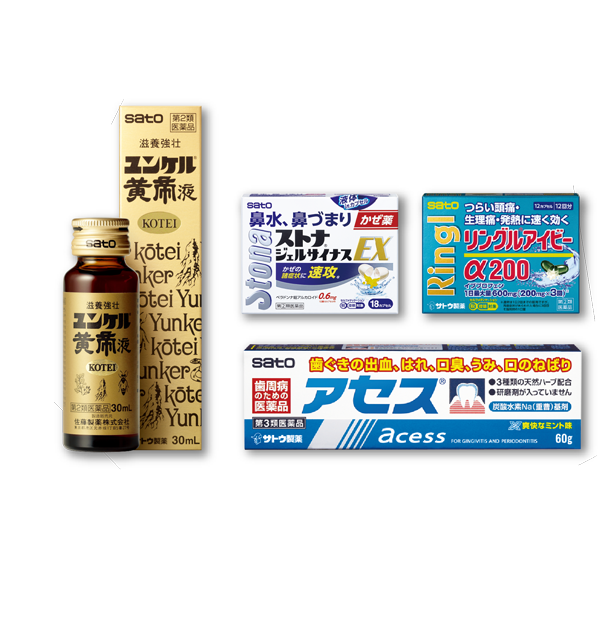 Sato's technological strength and originality are highly rated, and shown through products that begin with high-value-added Switch OTC drugs that meet market changes, and go on to include OTC pharmaceutical products and quasi-drugs aligned with consumer needs, health foods and cosmetics. We are working to expand our product lineup into a wide range of fields, and provide highly original products.
 Our main OTC pharmaceutical products, including YUNKER, ACESS, STONA, and RINGL IB, are supported by the media presence of top Japanese personalities including Ichiro Suzuki, Shunputei Shota, Mao Asada and Akane Hotta. We also focus on management support for retailers, inviting experts to join as we regularly hold the Sato Drugstore Conference and the Sato Symposium. We are also moving proactively to create a positive environment for practicing selfcare through the OTC Self-Medication Promotion Foundation.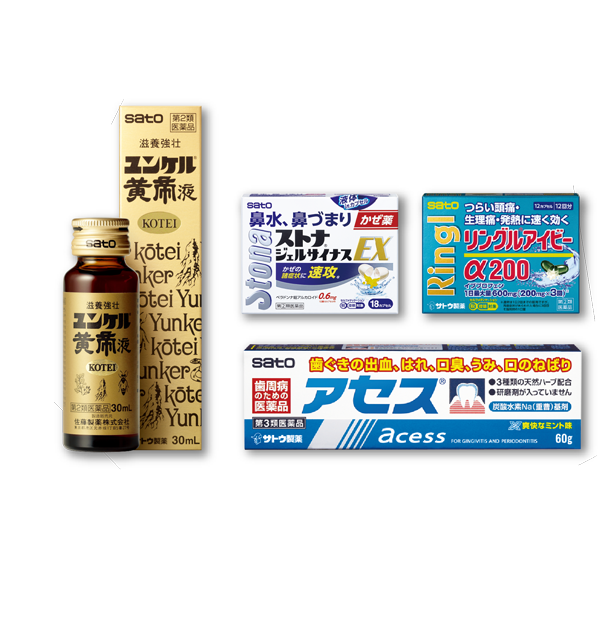 Ethical Pharmaceutical Business
Developing highly original products and enhancing drug discovery joint research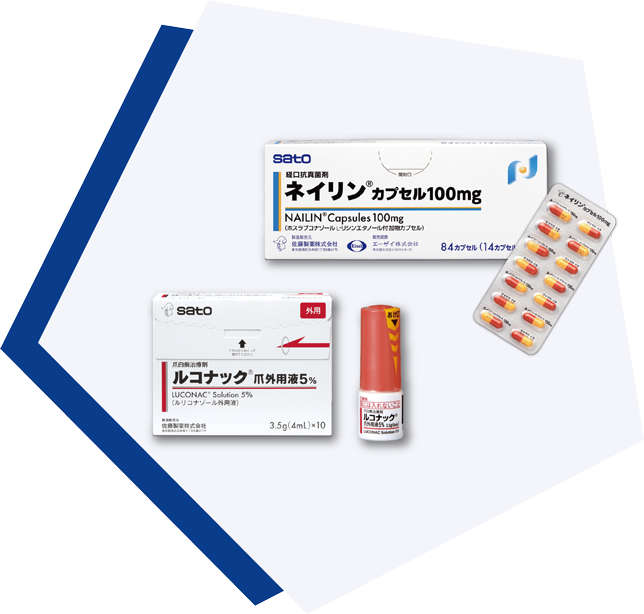 Sato's ethical pharmaceutical business provides unique products, particularly in dermatology, including the oral antifungal agent NAILIN Capsules 100mg; LUCONAC Solution 5%, a topical onychomycosis treatment; the topical anesthetic EMLA Cream and EMLA Patch; and PATCH TEST PANEL (S), an allergic dermatitis test. In the field of onychomycosis, we lead the market as the only pharmaceutical company in Japan to provide both oral and external preparations. Sato's EMLA external topical anesthetic has also gained the top position in its market. These products were born out of a desire to make examination and treatment as comfortable as possible for patients, and apply the technologies and expertise accumulated by Sato over many years. Sato not only promotes the in-house development of new compounds, but also enters into partnerships with companies, universities and research institutes, both in Japan and overseas.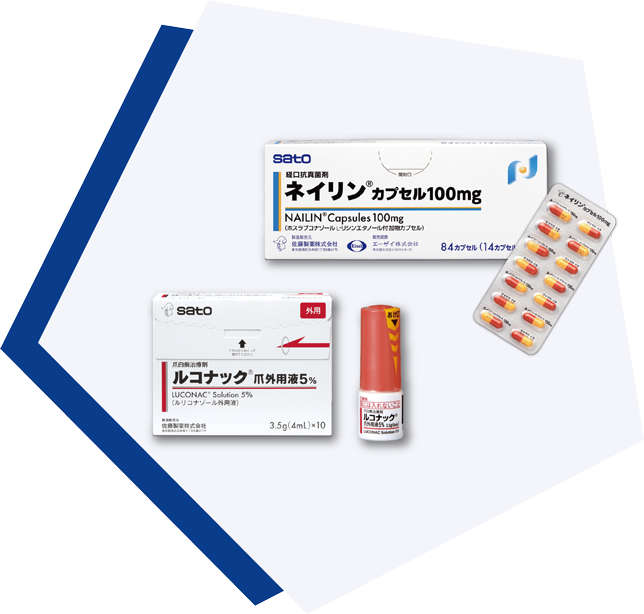 Global Business
Developing brands that capture the regional and local needs in international markets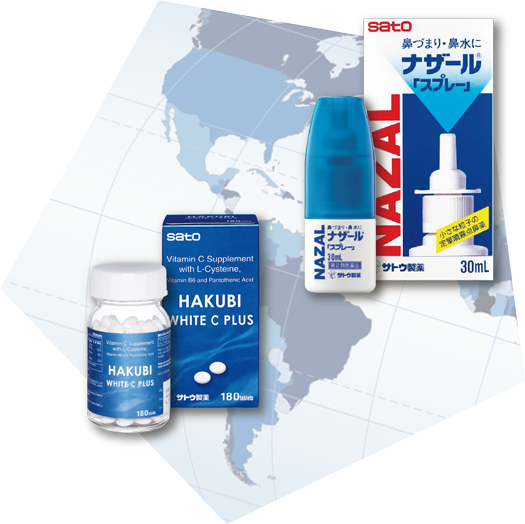 To help support the daily health of people around the world, Sato has developed six branches in the rapidly growing Asian region, North America and Europe. Sato conducts comprehensive marketing activities in each country and spreads awareness of the SATO brands by accurately grasping the needs of each country and region. In Asia, the center of our overseas business, the YUNKER, HAKUBI and NAZAL brands are growing strongly; NAZAL now has the top share in Hong Kong. The HAKUBI brand is also expanding into new markets in the ASEAN nations. In North America, we are developing store brands in major drugstore chains, while in overseas markets we are expanding sales channels and actively promoting safe and reliable Japanese products, with a focus on YUNKER.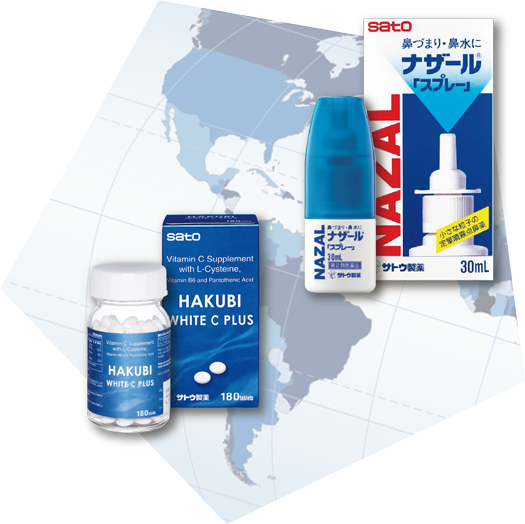 Production and Distribution
An efficient production and distribution system, with concern for the environment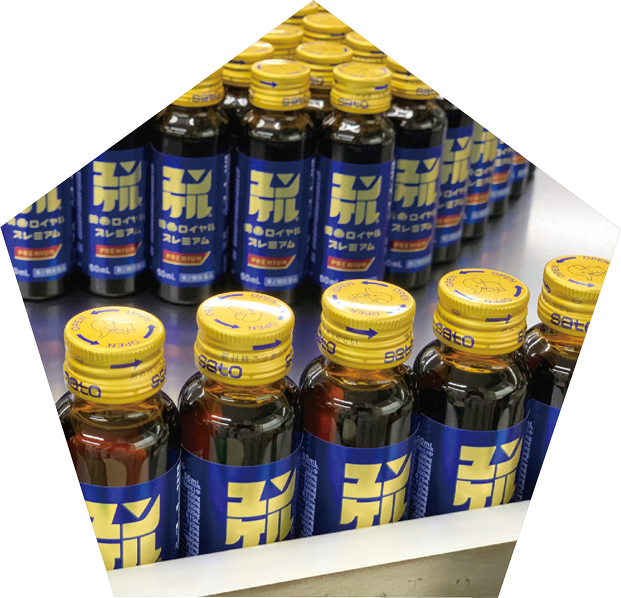 It is essential for pharmaceutical companies to have a system that provides a fast, reliable supply of high-quality products. Our two factories in Japan and one in Taiwan are smoothly linked, creating a flexible and robust production system. The Hachioji factory's production line has been enhanced with the introduction of a high-speed line that has increased efficiency. At the Kazusa factory, a new production line was set up for ethical pharmaceuticals for external use, with production beginning in October 2017. Our Taiwan factory became PIC/S GMP compliant in 2014, with successful renewal in 2019. Here we have an advanced, world-class production system. Our domestic distribution system uses a centrally controlled ordering information system for the network of five distribution centers. Sato is also using LED lighting, resource-saving systems, recycling and natural energy utilization and other initiatives to reduce environmental impact.